Everyone Seems to have a Memory Page and now reluctantly I have one.  The last couple of Years have been very hard with the Loss of my beloved mare Candy in 2005 and Playboy and one of his colts in 2006.  This page is for there memory and others…  Hopefully no more will be added for a long long time.  We need time to heal so hope this tribute to all the wonderful creatures of the FourB farm that we have had cross the Rainbow bridge will help.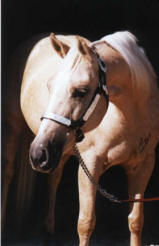 Silver Dee Candy left us abruptly in 2005 after complications of Colic surgery.  She left behind an orphan filly that is making us all proud Ultima Starshine Candy among many other gorgeous children. Please click on her picture or her name to follow to her page of memories with us at the FourB Farm.
Ultima Playboy left us abruptly in August of 2006 after complications of vasiculitis (Major swelling in the vessels in his head).  He was in the Prime of his life also and making such a wonderful name for himself. He has left behind some wonderful children that are truly winners and will be all they can be.  He was what we were breeding for at the FourB a beautiful horse that could do it all and was doing it all when he was taken from us and ohh so young…..  Please click on his name to follow to his memory page.
Although with us only a very short time.  Ulti was loved by his Gorgeous Mama Goldie and all the human friends he had.  He was born April of 2006 with his tongue hanging out and we tried everything to save this little guy.  He had a complete blood transfusion and was doing real well thanks to Linda's determination and Goldie's cooperation in being tube fed that first 24 hours of life.  He had learned to suck and was doing great.  Well, he passed away at 2 weeks old. He got ill real fast.  The vet was summoned and his blood cells had sky rocketed.  He was too weak to fight whatever the infection was and in the wee hours of the morning we called the vet out and really before she injected him he had already crossed the rainbow bridge.  He is now Romping with his Daddy up there with no pain and forever at peace.
On April 20, 2007 a gorgeous Golden Dun Filly was born. Our last by Playboy.  Everything was textbook.  But, only god knows why this filly FourB Ultima Finale "Allie" became septic and it settled into her left front knee joint.  She spent over a week at the Hospital and then 3 weeks here on double daily meds doing great except the knee kept getting worse.  Her good leg then started to bow and we had a final x-ray taken and that even showed that the infection had went to the bone.  We could not let her suffer anymore.  Allie was put out of her misery on May 29th,07.  Rest in Peace our Beautiful Ultima Final!