For the most up-to-date photos and testimonials, visit the FourB English Springer Spaniel page on Facebook!
---
My name is Terri and I have been the Practice Manager at PetCare Centre for almost 20 years! I've seen a lot of pets but Teri's pets always stick out as the healthy, well-behaved Springers. Teri always takes the utmost pride in providing the best veterinary medicine and care for all of her pets. We have done multiple house calls and her farmette is always beautiful and well-taken care of. From goats to horses and beautiful Springers, Teri offers her pets the best life they could ask for. I always recommend her Springer pups to everyone looking for a puppy. I can't wait to see the next litter.
-Terri Tolley-Thompson
---
Cooper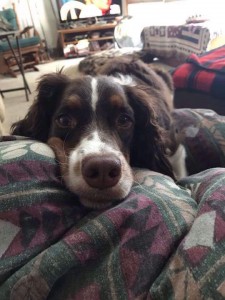 Derek and I were looking to start a little family. Derek had a work buddy tell him about Teri and how she was a great breeder and that an English springer spaniel was the perfect dog to get! That's when we got Cooper! He is an amazing goofy little dog. He's also a mamas boy! I can't imagine my life without Cooper! Teri is the best and always will be the best person to get your new buddy! She is very knowledgeable about the breed. Love her and her love for the breed!
– Derek Berry and Maddie Kraft
---
Greta
Greta is 6 months old. She is from Barney and Sadie's first litter. I have nothing but good things to say about our experience. Greta is a great dog and super smart. She was able to spend her first trip in the north woods this past weekend and did fantastic. Love Teri and Four B farm. Would recommend them to anyone looking for a springer spaniel.
---
George
This is George. He's only 5 months old and got his first grouse!
He's doing awesome for only 5 months. A natural. Good genes, he's very smart and easy to train. I worked with him prior to make sure he wasn't gun shy. A natural flusher. He's very loyal!
---
Ryleigh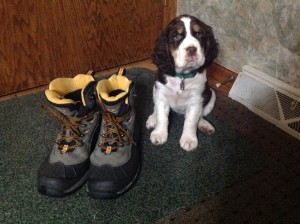 Ryleigh loves her dad's boots. I happened to catch her when she wasn't chewing on them.☺️  Also, they are a good size comparison. Just wait! We will send plenty more pics.  (8 1/2 weeks old).  -Lynn Drewiske
---
Teri we just wanted to let you know Lucy is adjusting very well to her new home and Charlie and her are getting along great. Lucy is very well socialized and has not had an accident in the house yet; knock on wood. I think this speaks very well to Teri and her kennel. Her dogs are family and treated like family, not a business, and I would recommend that anyone looking for a Springer Spaniel check with Teri.
-Alan Glover
---
Piper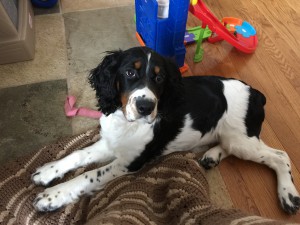 Hi Teri, I just had to share this picture and let you know how much we love our Piper. She is such a sweetheart and a blessing to help us get over our Scout's passing!
-Freidel family
---
Lucy and Lambeau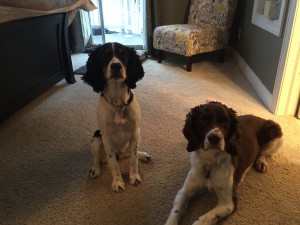 When Nicole and I decided to get a dog for our family we were not exactly sure what kind of dog we wanted. We wanted a medium size dog that would be great with kids, strangers, and possible hunting. We had known Teri for a couple of years before we got our first dog, Lambeau, from her. She was very knowledgeable about the Springer breed, and the way she treats her own dogs, we knew that getting a puppy from her, it would have a great first 8 weeks. Lambeau is turning 6 this year, and last spring we went back to Teri to get him a sister. We added Lucy to our family in late April. Lucy is actually the niece of Lambeau.
Teri's commitment to her dogs and business means that she stands behind her pups, and also is very conscious that they are going to a loving home. Springer Spaniels might not be for everyone, but for those of us that love the breed and excitement of the dogs, Teri is an amazing breeder!! If you are looking for a breeder that is selfless, nurturing, caring, experienced, tenured, and great to work with, you came to the right place.
THANK YOU Teri and Four B Farms. Our family is now complete.
-Bret L – Sun Prairie, WI
---
Zirry
We couldn't be more thrilled with our springer pup! She is such a smart and funny dog with a lot of spunk! And really she has been so good! Scratches at the door to go potty and sleeps through the night already! Teri is an amazing breeder and cares for her dogs like no other breeder we have met! We are so delighted to have welcomed one of her pups into our home and we would recommend FourB farm for anyone who wants a great springer spaniel for their family or hunting buddy!
-Valerie Beckwith
---
Lucea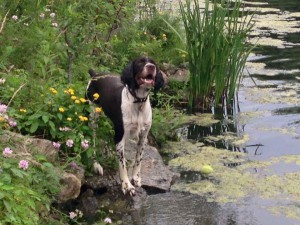 I am an active volunteer with a springer rescue group. I saw pictures being posted of Teri's puppies and I asked if I could go to her farm to see them to get my puppy fix. All the puppies were adopted from that particular litter. Teri's home is filled with love and springers. I got to know Teri and her breeding philosophy and knew she was a great person and breeder. When the next litters were born I again went out to meet them but this time I adopted one. Lucea is a wonderful girl and I have recommended Teri"s puppies to people in search of puppies.
-Kris Specht
---
Rhett
I got my best friend, Rhett, from Teri in the spring of 2016.  It's amazing the time Teri spends with her dogs and the care she gives them is excellent. When I picked Rhett up he was clean and healthy. That day changed my life forever. Rhett is one of the most respectful and happy dogs I have ever owned. I have no doubt in my mind that if I ever get another springer it will be from Teri. One can truly tell the time and energy she puts into her selections for breedings. These are some of the best dogs ever. I would highly recommend Teri to anyone looking for a new four legged friend!
-Katyra VonRuden
---
Colton and Gryffen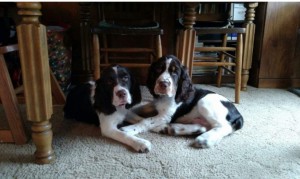 This is Colton and Gryffen. Their mama is Sadie and daddy is Barney. They are awesome boys!
-Lisa Stabenaw
---
Buck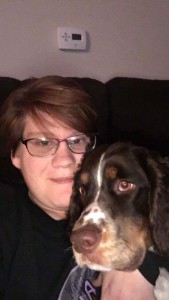 Buck is very energetic and loves to play with tennis balls, his pheasant and his weasel. He is very loving and loves to give kisses and spring for treats. We love that he listens well and likes to sit on our laps on the couch he acts like he's a lapdog.
Here he is 10 1/2 months old his parents are Violet and Champ
I would definitely recommend Teri as a breeder!
-DeWitt Family
---
 Benelli
This is Benelli. His dad is Champ and mom is Abbie. He is 4 months old (9-13-16 bday). Our family just loves him!!! Not quite sure who Benelli inherited the unruly hair from…mom or dad?! He sometimes looks like he has bed head!
-Rhonda Hanrahan
---
Riley
This is our Riley! His baby picture and him now at 2 1/2 yrs. His Momma is Violet and Dad is Champ! He looks like his mom????
He has been happy, healthy and full of springer energy!! He was a tough pup, but Teri is an awesome breeder and gave us great advice and was so helpful and kind! He is the most lovey, crazy dog ever!! Could not be happier with him.
I would go to Teri again if I ever wanted a ESS, and would recommend her to anyone looking for a lovely, well bred ESS!
Thanks Teri and all at FourB for giving us the opportunity to love and have one of these wonder pups.
We are in Minooka, Illinois .
The Zoeller Family – Barb & Jim and family
---
Lady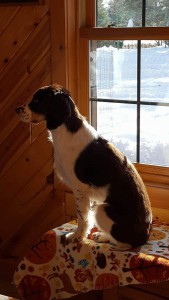 Lady was 2 years old in October. Her mom is Violet and her dad is Champ! Excellent hunter. 22 grouse her 1st year. Has 8 this year but John has only been hunting 3 times because of health. She is the best we ever had.
-The Fischer Family