Oh man this the best summer salad yet!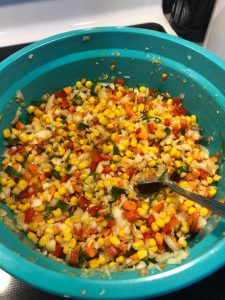 Ingredients:
8 large ears of sweet corn cooked, cooled and corn cut off
½ c thinly sliced green pepper
½ c thinly sliced red bell pepper
½ c chopped red onion
4 thinly sliced carrots
2 diced kohlrabi
½  cup thin sliced green onions
Put all vegetables in large bowl.
Vinaigrette:
1/4 cup olive oil
2 Tablespoons rice vinegar
3/4  tsp ground cumin
½ tsp salt
Dash pepper
Zest and juice of one lime
Mix vinaigrette together and then add in vegetables.
---