This custard-type cake is very good. Not too rich. I make this when I have a lot of eggs. Very well worth the time! Ready in about 1.5 hr.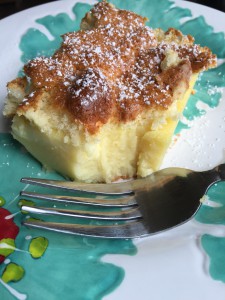 Ingredients:
8 eggs (room temperature), separated
1 ½  cups white sugar
1 cup butter, melted
2 teaspoon vanilla extract
1 ½  cups all-purpose flour
4 cups lukewarm milk
4 tablespoons powdered sugar (approx)
Directions:
Preheat oven to 325. Grease a 9×12-inch cake pan.
Beat egg whites in a large bowl with an electric mixer until stiff.
Combine egg yolks and sugar in another large bowl; beat with an electric mixer until light and fluffy, about 2 minutes. Add butter and vanilla extract; beat until smooth. Add flour slowly. Beat in milk about a half cup at a time.
Fold egg whites gently into the batter. Pour batter into a well greased baking pan.
Bake in the preheated oven until top is golden about 1 hour, maybe more. Cake should look set. Let cool, about 30 minutes. Dust top with powdered sugar.