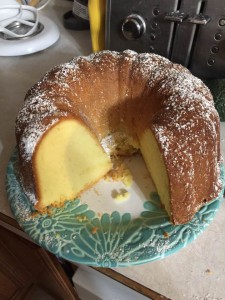 Ingredients:
1 pound (2 cups) butter, room temperature
3 ½ cup granulated sugar
10 large eggs, room temperature
4 cups sifted all-purpose flour
2 teaspoons vanilla
Directions:
Preheat oven to 350 degrees. Grease and flour a tube or bundt pan. You may need to line the sides of the tube pan with waxed paper so that is above the top of the pan 2 to 3 inches. This is a very tall cake.
Cream 2 cups butter until soft and there are no lumps.  Add sugar and cream until light and fluffy.  Add eggs, one at a time, beating 1 minute after each addition.
Lower speed on mixer to low and slowly add flour and vanilla and mix in completely.
Spoon batter into prepared pan. (Make sure pan is large enough for batter to double in size.)
Bake at 350 for 1 hour and 25 to 30 minutes.
Test for doneness by inserting toothpick in center of cake.  If pick comes out clean or with dry crumbs, it is done. Remove cake and allow to cool on a wire rack 30 minutes.
Invert onto platter and serve.
Serves 14
Recipe from Paula Jones