Starshine came into this world on March 15, 2005. She is by our champion stallion ULTIMA PLAYBOY (who passed away in August of 2006) and out of the best mare I ever had (my first) SILVER DEE CANDY whom sadly passed away May 23rd, 2005 due to complications of colic.
Candy left Starshine behind at only 2 1/2 months old. If the good lord is willing Starshine will live on in Candy's legacy. After all she will be the only one out of Candy and by Playboy (The two foundation horses of the FourB Farm). This very correct gorgeous filly will grow up here and we will see to it that she will be all she can be. Just like her Mother and Father. For now we can't help but spoil this beautiful girl. Look for more pictures often as this beauty grows up and makes her mark on this world.
Starshine is a MAMA!!!
We bred Starshine to MWS IMA FLASHY ZIPPER and On April 15th, 2009 Starshine gave birth to her first baby. And a gorgeous one at that! Please click on the stallions name to go directly to there site. We could not be more pleased. Starshine was having a difficult time dealing with the pain of child birth so I called out our vet to assist with the birth. Thanks to Dr. David Kolb of Lodi Vet-Madison Equine, Krissy, Corky, Jenni, Noe and of course Starshine we have a beautiful Palomino filly. It definitely took team work to bring this girl here! It took Starshine a couple of hours to figure things out but she has become a wonderful Mama too. More pictures to come as she unfolds more.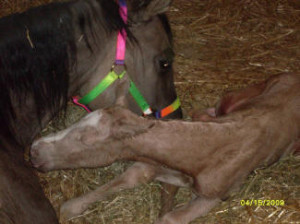 Here she is her first day outside at 3 days old.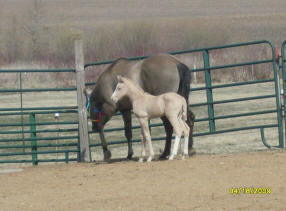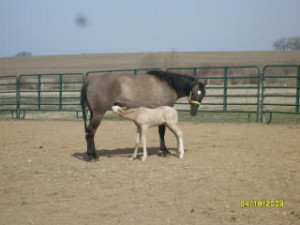 2007 Show Season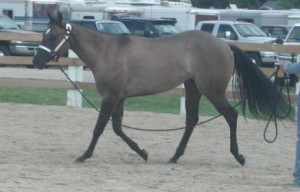 Starshine just seems to be bored out there this year. She's never been more gorgeous. So far this season she's added 5 more points and is 6th in the nation to date. Here is a picture of her at a recent show.
Starshine stayed 5th in the Nation for most of the season being knocked off sometime in September. she is now broke to ride and is home for good! We made this decision for her benefit. She has proven herself enough and it is time to bring her back home and to learn to be just a horse. A beautiful one at that and hopefully bring us some babies in her future that will do both her and her parents proud. She has already made us so very proud with her accomplishments. We love this filly to death and are really looking forward to her being back home with us for good!
Starshine has racked up some awesome career accomplishments to say the least!
IBHA ROM in Longeline 10-7-06
ISBA 2006 Yearling Longeline Futurity Champion and money earner
ISBA 2006 Reserve Circuit Champion
WBHA- 2006 Grand Champion in Yearling Longeline
2006 Show Season News
In February we made the decision to show Starshine. So on February 22, 2006 She went to stay at Patty's to get in condition for Longeline. Keep your fingers crossed for our beautiful girl and we'll all hope she makes her mark in memory of her Daddy and her Mama! Oh what a wonderful tribute that would be! It's very hard for me to send my baby's last baby to be a show horse. But, I really think it is the right thing for her, her Daddy and her Mother whom meant the world to me. Wish us luck and I will post updates here.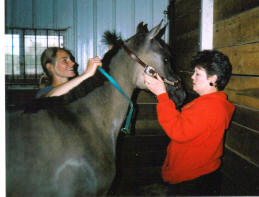 Here she is getting her halter fitted.
Starshine's first show was a success! Although it was quite stressful for her (rain and mud everywhere) she did super! Two 4ths on Saturday out of 8 yearlings and a 4th and a 5th on Sunday out of 8 yearlings.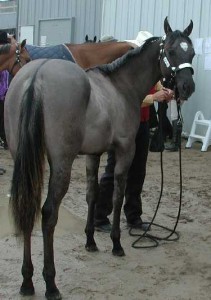 Show #2 was in Peoria IL Saturday May 27th she got 2- 2nds in Halter and a 1st and a 3rd in Longeline out of 5 horses! Talk about a happy Mom here! Her first Point!!!
May 28th in Peoria she got a 2nd and a 3rd in Longeline and a 2nd and 3rd in halter.
May 29st in Peoria she got a 3rd and 4th in longeline and 2-3rds in Halter. But she became
ISBA RESERVE CIRCUIT CHAMPION in both yearling Halter and Longeline! How much more proud could I be!
I decided to get some more photo's of this photogenic little girl before she leaves again for more shows. So today June 13, 2006 Jenni and I went to snap pictures. Here's a few more of her….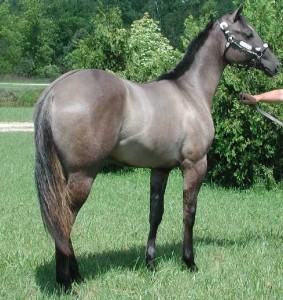 June 24th in Jefferson, WI her best day yet!!! She won under one judge and got a 2nd under the other she was PERFECT! It was a huge class of 10 horses too. She got 5 points that day!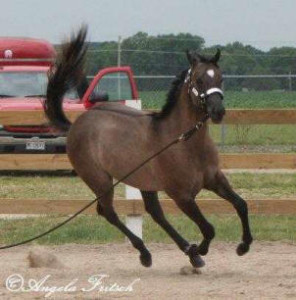 June 25th I think she was just plain wore out. After all she is only a yearling. She got 2- 5ths out of 9 horses. You won't hear me complain I'm still in awe from Saturday!
July 1st thru the 4th in Peoria proved to be a tough one for Starshine. Although receiving a 2nd and a couple more points she was having a tuff time with the surroundings. We are still quite proud of this young lady! As she grows and matures I just know she's going to be a winner all the way around!
July 8th and 9th were Super for Starshine she won under all 4 judges. She was just perfect!
July 22nd and 23rd were kinda hard. She was more interested in playing than working. It is hard for a baby to be a show horse. She did get a 3rd and 5th Saturday and on Sunday a 5th but the weekend got her another point so not all was lost. She's getting there and as she matures it will only get better and better I'm sure. I did get a couple good shots of her.
September 2nd, 3rd and 4th Starshine headed to IBH Congress. Talk about a tuff schedule. She had a tuff weekend behaving but did come home with a 3rd and 6th on Saturday a 7th and 8th at Sunday's Futurity and did not place on Monday. She was up against the best of the best and did get 2 more points but I'm sure it will all come with maturity.
September 16th and 17th what a wonderful finale to the WBHA 2006 show season. On Saturday she won under one judge and got a 3rd from the other. On Sunday Oh my she WON under both Judges! 6 points this weekend… Were waiting to see the official tally of WBHA points but she got Reserve Champion 2006 Yearling Longeline horse for sure. Way to go Baby girl! Your Mama and Daddy are Dancing for you up in Heaven!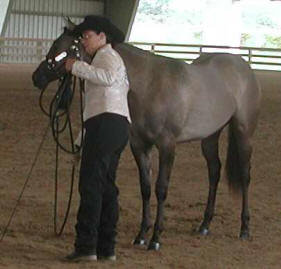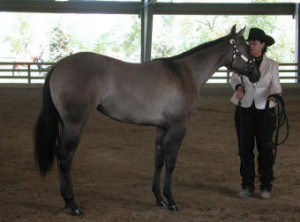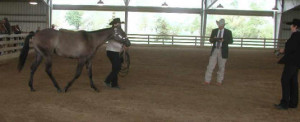 Here Patty is telling Starshine that she was so proud of her and that she thought they aced it. Well…. THEY DID! Haaaa…
FLASH!!!
It's official Starshine tied for WBHA Grand Champion Yearling Longeline Horse
Starshine has one more futurity show in October In Illinois and then she will be coming home for the winter. I can't wait!
The ISBA Fall Round Up Buckskin Futurity and Open Horse Show October 7,8 and 9 2006. The results are in…
Saturday- 10-7-06 She got a1st and 2nd. She got some more points so we now know that…..
STARSHINE HAS EARNED HER R.O.M. IN LONGELINE!!!!!
Sunday- 10-8-06 Starshine got a 1st and 2nd again getting more points AND!!
SHE WON THE FUTURITY!
Look at this gorgeous girl! Thanks so much to Michelle Zimmerman for getting this wonderful picture!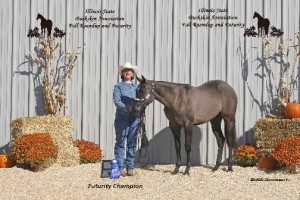 Monday 10-9-06 She received a 2nd and 3rd receiving another point!
How much more can we ask out of a little orphan filly who has lost both her parents in her first year of life. I can't wait for her to come home for the winter! I wanna give her a bunch of kisses and spoil her rotten all winter (Sorry Patty I just have too. Good lord willing she'll be back in the shows next season!).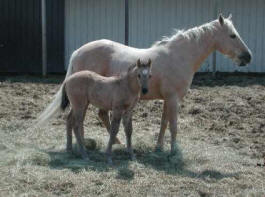 Here she is April 18, 2005 with her Mother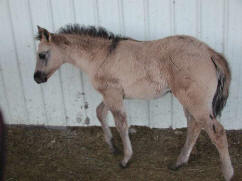 Here she is May 15, 2005. Boy is she a fuzzy one!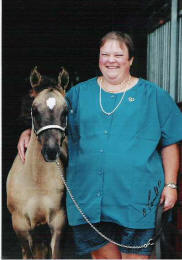 How can I not get a picture with me! July 5, 06.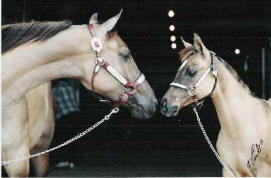 And here she is with her big Sister Holli July 2, 2005