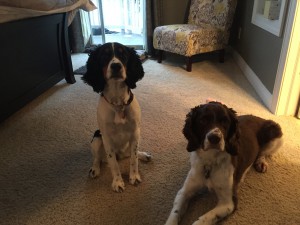 When Nicole and I decided to get a dog for our family we were not exactly sure what kind of dog we wanted. We wanted a medium size dog that would be great with kids, strangers, and possible hunting. We had known Teri for a couple of years before we got our first dog, Lambeau, from her. She was very knowledgeable about the Springer breed, and the way she treats her own dogs, we knew that getting a puppy from her, it would have a great first 8 weeks. Lambeau is turning 6 this year, and last spring we went back to Teri to get him a sister. We added Lucy to our family in late April. Lucy is actually the niece of Lambeau.
Teri's commitment to her dogs and business means that she stands behind her pups, and also is very conscious that they are going to a loving home. Springer Spaniels might not be for everyone, but for those of us that love the breed and excitement of the dogs, Teri is an amazing breeder!! If you are looking for a breeder that is selfless, nurturing, caring, experienced, tenured, and great to work with, you came to the right place.
THANK YOU Teri and Four B Farms. Our family is now complete.
Bret L – Sun Prairie, WI