**FLASH**
Levi is for sale! For more information click HERE.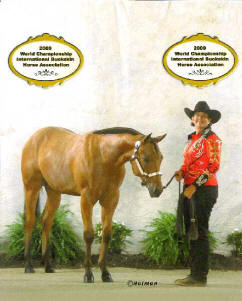 Levis has done a wonderful job in longeline in 2009.  He will spend the winter growing up. He ended the show season very well.  6th in the nation in point standings as of August 21st, 2009 and 4th in point standings as of the July WBHA show.  We have high hopes for this gorgeous young man and will keep all posted on his progress.
Levi joined our family in January of 2009.  He was born March 27, 2008 in Post Falls, Idaho.
His Sire Dun Goin Steady is a 2003 AQHA / ABRA / IBHA Dun Stallion whom is a 2 TIME ABRA World Champion and NSBA World Champion Top 10! See him on there website www.dunsnrosesranch.com  I have to send out a special Thank you to Gena Loper for her honesty and all her help with all the questions we had and the pictures and video we had her take.  This has been such a wonderful experience!
Steve from Cowboy Express you did a wonderful job transporting him.  We WILL remember and recommend you!
Levi's Mama  is by Leaguers Sandman whom has his ROM in Performance, is a world show qualifier, halter and performance point earner.  You can view him on there website which is www.whitediamondsranch.com
He is currently in training for Halter and longeline with world champion trainer Patricia Johnson of Iron Horse Ranch.  We'll keep photo's coming as much as we can.
Here is Patti and I the day I got to finally meet Levi.  He was such a quiet gentle fuzzy colt.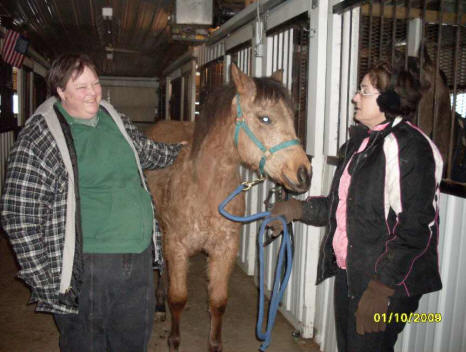 His Daddy Dun Goin Steady
pictures used with permission from Gena Loper.  Thank you!
Thanks to Duns n Roses ranch I have a couple of baby pictures of Levi
Time to get him registered with IBHA  so here are some pictures take 4-1-09  My has he grown!
FIRST SHOW OF 2009 WAS A HUGE SUCCESS!!
WBHA at Jefferson Fairgrounds in Jefferson Wisconsin
ONE WIN one 2nd, one 4th and one 5th a 4 point weekend!  5-9 and 10 of 2009
We couldn't be more happy.  He WON under one judge and placed 4th under the other and there were 9 total yearlings in the class! Due to rainy wet weather the show was indoors and the digital cameras didn't work decent. So we did not get any pictures worth posting.  I am however trying to transfer some video onto you tube of his very first run. He has also shed out to a gorgeous buckskin.  He lost the dun stripe but, has gained the most beautiful caramel color I have seen on a buckskin!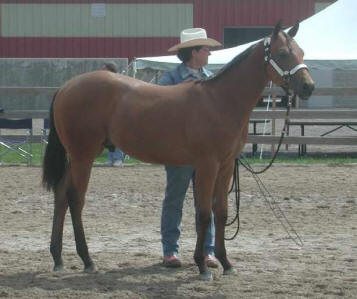 SHOW #2
IaBHA at the Iowa Equestrian Center in Cedar Rapids, Iowa 5-30 & 31, 2009
One win, one 2nd, one 3rd and one 4th.  A 3 point weekend!
SHOW #3
WBHA at Jefferson Fairgrounds in Jefferson Wisconsin June 20,21,22, 2009
June 20th 2009 he won under both judges getting him 4 more points!
Show #4
IaBHA in Iowa July 11 and 12, 2009
One 2nd in Lungeline and another point
Show #5
WBHA at Jefferson July 18th and 19th, 2009
One 2nd and another point Levi is in such a growth spurt right now.  All I can say is WOW!
And here is what he thought of this show…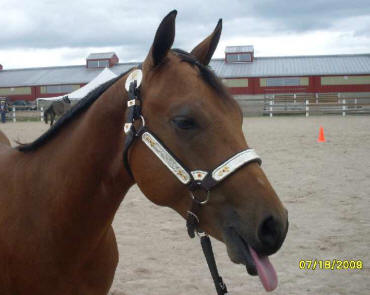 He's on his way to the World Show in Memphis Tennessee the first week of August.  I'll stay on pins and needles until the results are in.
Levi was in such a growth spurt again and did not place too well.  He is now on break wait next year!