AKC Inspected State of Wisconsin licensed kennel #411058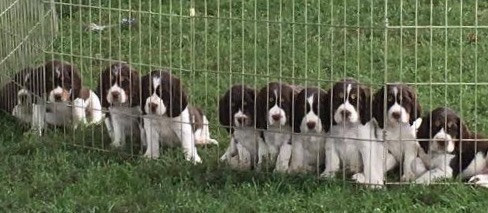 **2018 is going to be a fun, puppy-filled year at FourB!***
-Puppy Due Dates-
*January 9: Penny and Barney     Born January 10! Click HERE for more information!
*February 18: Abbie and Champ
*End Feb/early March: Sadie and Barney
*End Feb/early March: Windy and Barney.
All dates are approximates. Get your deposits in now!!
A $100 non-refundable deposit will put your name on the list for puppies. When puppies are born an additional $200 deposit will be required to hold your puppy.  Final payment -in cash- due at time of puppy pick-up. Full prices are listed below. 
---
I have raised quality, family-bred English Springer Spaniels for over 35 years.  My first Springer found me.  I was a 16 year old kid and she just showed up.  Tried to find her owner but no one ever claimed my Happy Dog. And surprise- she just happened to be pregnant!  Well, that started my love for Springers and here I am with six of them now.
My Springers are bred to hunt and love!  They are not the kind of dog that wants to be left alone in a kennel or tied to a chain.  They live with us in our home and sleep in our bed. They are truly family members.
Puppies will have had their first vaccinations, be dewormed and have had a veterinarian health examination. Unless prior arrangements have been made, they will come with limited AKC registration papers.
Full Puppy Costs:
Male liver/white or black/white:  $600
Female liver/white or black/white:  $700
All tri males:  $700
All tri females:  $800
All roan liver/white or black/white males:  $700
All roan liver/white or black/white females:  $800
Tri roan males:  $800
Tri roan females:  $800
Breeding rights and full AKC registration for any FourB puppy: $1500
-NON REFUNDABLE DEPOSIT- $100 to put your name on a list, $300 to hold a puppy.
Abbie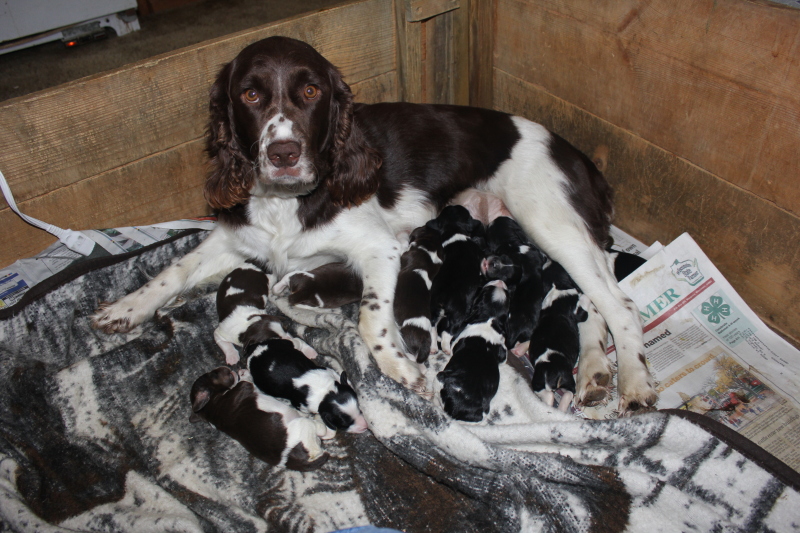 Violet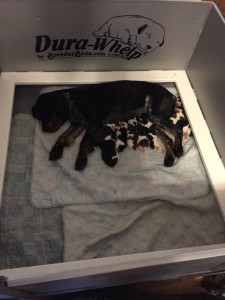 Sadie
*If interested in puppies, please call me- Teri Bedner, at 608-575-5376*

Address:
FourB Farm
7679 County Road N
Sun Prairie, WI  53590
If unforeseen circumstances arise and you can no longer keep your puppy from me, please don't hesitate to contact me and I will help you find him/her a new home.
My Springer lines have been selected for family dogs.  They have both field and bench background.  I strive for the best family dog without costing an arm and leg to the purchaser. I love to make families happy. I will not leave you high and dry once you purchase a puppy.
*Windy and Barney's precious litter*
Photos taken 2/1/2017 by Terri Tolley-Thompson @ Sun Prairie PetCare Centre
We had Springer puppies today ❤❤❤❤❤ They were big, chunky, healthy little nuggets !!
More Windy/Barney puppy pictures!
~~~~~~~~~~~~~~~~~~~~~~~~~~~~~~~~~~~~~~~~~~~~~~~~~~~~~~~~~~~~~~~~~~~~~
HAPPY PUPPY FAMILIES!
Click here for testimonials of happy puppy families!