AKC Inspected State of Wisconsin licensed kennel #411058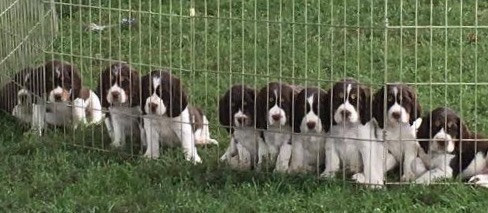 **WE HAVE PUPPIES AND ARE TAKING DEPOSITS ! 
-Puppy Due Dates-
*Penny and Champ  Due February 27, 2019  Click HERE  for more information!
*Abbie and Champ  Due February 24, 2019 Click HERE  for more information!
*Sadie and Barney  Born August 25th!   SOLD Click HERE  for more information!
*Windy and Barney  Born November 24, 2018! Sold! Click HERE  for more information!
*Olivia and Champ are expecting their first litter together  January 14, 2019. This litter promises to be awesome and sell  FAST!!!  Tri colors will be expected including Tri Roans.
They will sell fast so get your deposits  IN NOW!
THEY ARE HERE!
Olivia And Champ have a litter of gorgeous tris and roans! They were born January 11, 2019.  Mom and Babies are perfect! Four girls and 3 boys!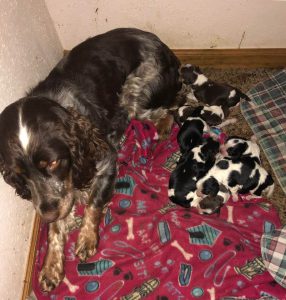 As of January 1, 2019 a $200 non-refundable deposit will put your name on the list for puppies. When puppies are born half of the remaining balance will be required to hold your puppy NON REFUNDABLE.  Final payment -in cash- due at time of puppy pick-up. Full prices are listed below. 
---
I have raised quality, family-bred English Springer Spaniels for over 35 years.  My first Springer found me.  I was a 16 year old kid and she just showed up.  Tried to find her owner but no one ever claimed my Happy Dog. And surprise- she just happened to be pregnant!  Well, that started my love for Springers and here I am with six of them now.
My Springers are bred to hunt and love!  They are not the kind of dog that wants to be left alone in a kennel or tied to a chain.  They live with us in our home and sleep in our beds. They are truly family members.
Puppies will have had their first vaccinations, be dewormed and have had a veterinarian health examination. Unless prior arrangements have been made, they will come with limited AKC registration papers.
Full Puppy Costs:  
Male liver/white or black/white:  $650
Female liver/white or black/white:  $750
All tri males:  $750
All tri females:  $850
All roan liver/white or black/white males:  $750
All roan liver/white or black/white females:  $850
Tri roan males:  $800
Tri roan females:  $850
Breeding rights and full AKC registration for approved FourB puppy: $1500
-NON REFUNDABLE DEPOSIT- $200 to put your name on a list, Half of remaining balance to hold a puppy non refundable.At pick up remaining balance is due in cash.
Abbie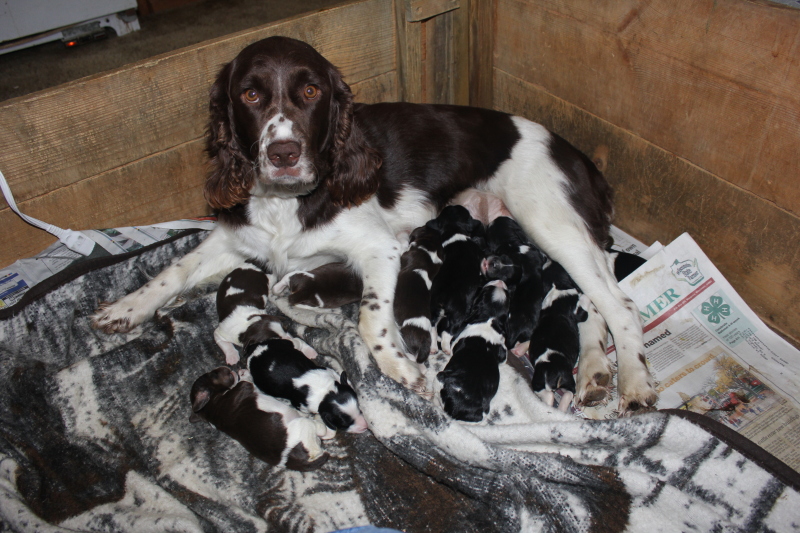 Violet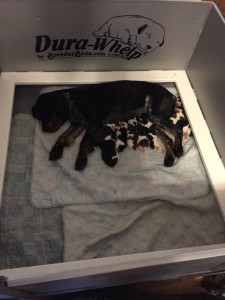 Sadie
*If interested in puppies, please call me- Teri Bedner, at 608-575-5376*

Address:
FourB Farm
7679 County Road N
Sun Prairie, WI  53590
If unforeseen circumstances arise and you can no longer keep your puppy from me, please don't hesitate to contact me and I will help you find him/her a new home.
My Springer lines have been selected for family dogs.  They have both field and bench background.  I strive for the best family dog without costing an arm and leg to the purchaser. I love to make families happy. I will not leave you high and dry once you purchase a puppy.
Monday January 14, 2019 Olivia and Champs babies got their tails and dewclaws done. Dr Vitali, the other vets and staff are awesome! I put my trust 100% in this crew!
*Windy and Barney's precious litter*
Photos taken 2/1/2017 by Terri Tolley-Thompson @ Sun Prairie PetCare Centre
We had Springer puppies today ❤❤❤❤❤ They were big, chunky, healthy little nuggets !!
More Windy/Barney puppy pictures!
~~~~~~~~~~~~~~~~~~~~~~~~~~~~~~~~~~~~~~~~~~~~~~~~~~~~~~~~~~~~~~~~~~~~~
HAPPY PUPPY FAMILIES!
Click here for testimonials of happy puppy families!