This poor mini Donkey could barely walk when we got him.  We could tell someone had just chopped off his toes to make his poor feet look better  and he had the number 33 shaved into his side so when he came thru the auction block and they said his name was 33 I couldn't hold myself back.  Droopy came home with us that day!
It didn't take us long to give him a name.  His left ear must have been broken or froze at one time and the tip drooped so that is how he got his name Droopy.  Within a year with corrective trimming and proper nutrition this guy was running again and kicking up his heals.  We had no idea how old he was. The vets figured 50ish…. One thing for sure is he lived his life out Happy.  We had the Pro photographer out and how could we not take a picture of Richard and his Donkey!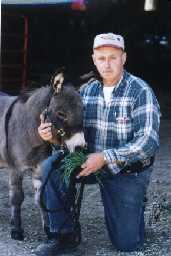 Every year since I bought Droopy I clipped him in the spring.  He never shed out. On June 3, 2006 I gave him his yearly clip and iodine bath that follows and I sat out on the lawn with him while he dried.  Jenni snapped a photo of Droopy, I and Breezy so had to add that too.  Then when Jenni took him back down to the mini herd it was like he was hiding with the grass being so long and then decided to show himself so I took a couple more pictures.
I am sad to report we lost Droopy the winter of 2009